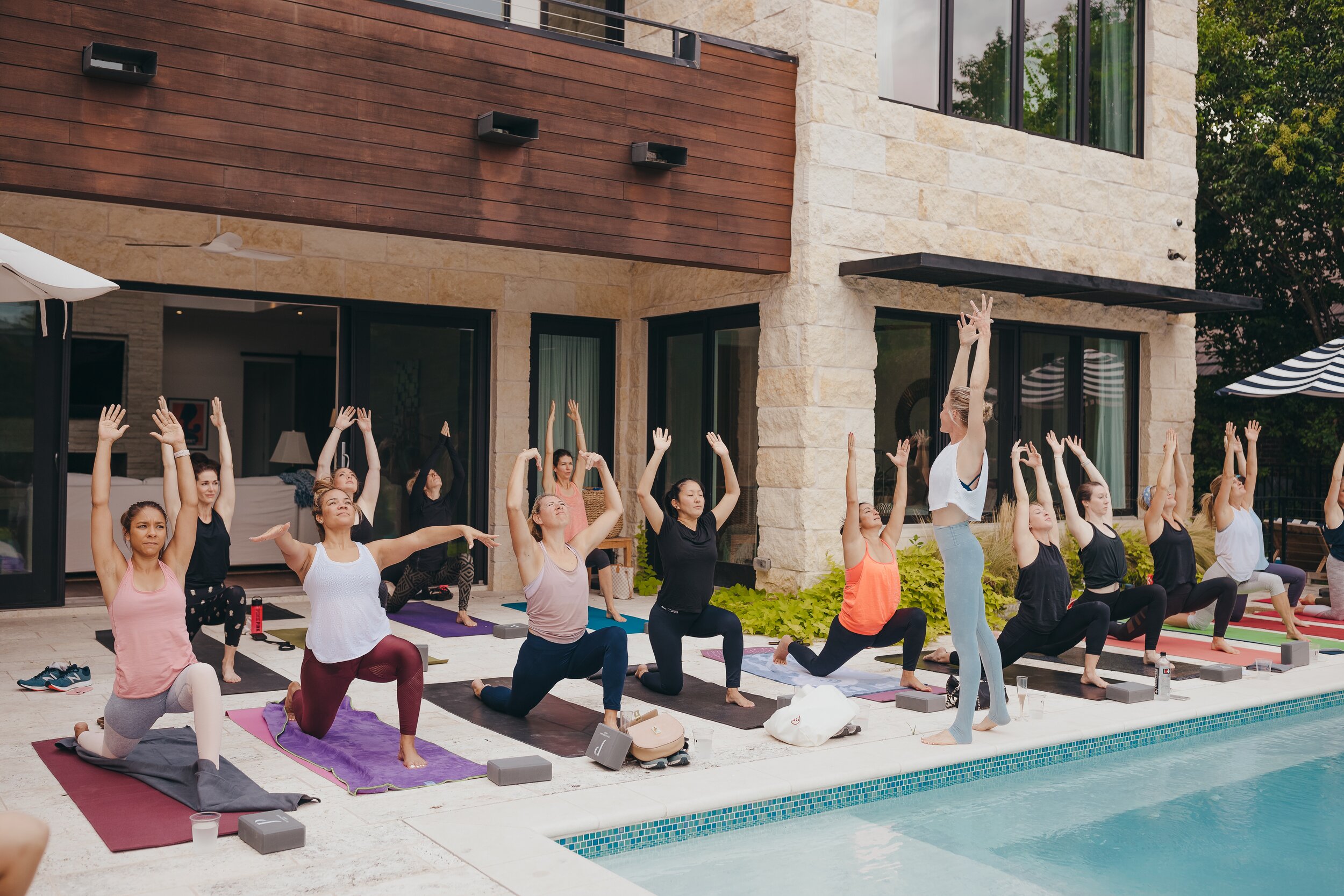 PRIVATE SESSIONS + PARTIES
"Brooke works with me in my home. I needed restorative yoga for my back and she has improved my pain tremendously!
Not only does she teach me the correct alignment, but she is my sweet friend now. What I love most is how she listens to what is going on in my body and is very careful not to let me overdo it."
— Jeanette, aged 80
Focusing on Yourself
Brooke offers private yoga and meditation training
for individuals, groups and businesses. She sees private clients in-home and teaches group classes in fitness studios, social clubs and corporate settings. Brooke provides her clients with a range of focused, hands-on, and personalized yoga instruction from the vinyasa, restorative and Yin lineages.
Additionally, Brooke offers a wide-range of guidance from her vast knowledge and training, which includes (but is not limited to) breath work, human development, spirituality, Reiki, neuroplasticity and energy cleansing/clearing. She is formally trained in over 21 modalities of meditation and can help you find an approach to mindfulness that fits best with your busy lifestyle.
Brooke works with each individual client to clearly understand their specific needs/desires and then forms a personalized plan that can range anywhere from yoga alignment/pose workshopping to daily accountability practices through meditation, journaling and other suitable approaches.
Private Sessions
Brooke comes to your home or place of business to teach in an intimate and comfortable environment. Whether you simply want to deepen your yoga practice or work toward cultivating more authenticity and mindfulness your personal or professional life, Brooke is the perfect guide for those who want to set and reach their specific goals.
Private Parties + Events
All levels and ages.
Nothing is more fun than a yoga party or private group session! Book Brooke for your next birthday or corporate event. From fast-paced vinyasa with fun music to a restorative group chill, Brooke can personalize any type of event to suit your needs. She also offers Mindfulness For Beginners for private group clients, as well as more in-depth breath and meditation practices. Perfect for team building, families who would like to cultivate more awareness and like-minded friends who want to grow together.
Kids love yoga, too! Brooke uses animal poses, Freeze Yoga, obstacle courses and more to create a fun-filled yoga party for kids. She always ends each event with various mindfulness practices, which leaves each child feeling calm, secure, and self-confident.
"Brooke is absolutely the best yoga instructor! She taught our ladies birthday party group and it was specifically tailored to our needs and wants with wonderful cues for all the different levels attending. And her music fit us perfectly! Brooke's positive outlook created a really fun yoga birthday celebration!"
— Bay I.
"I have attended two of Brooke's private yoga parties. She leads with so much wisdom and inclusion — whether you are a beginner or an expert. You will take her words to heart and carry that peace and strength with you beyond class. She also teaches with humor, which puts everyone at ease. Parties with Brooke are amazing, uplifting events for all who attend. And her playlists are the best!"
— Lisa H.
"If you are planning a yoga party or private event, you must call Brooke! I have been to a birthday yoga party and a school auction yoga party under her guidance and she makes each event so special and memorable. Her positive upbeat spirit, fun music and encouragement makes for a wonderful time. She is AMAZING!"
— Lauren S.
BOOK YOUR PRIVATE SESSION OR EVENT NOW
Contact Brooke to find out more about offerings, teachings, classes, private consultations or workshops.